Something I encountered in our rental is how to mix decor in an open-concept area. Our new home is very open with the kitchen, breakfast nook, and large living area being completely open. While this is fabulous for entertaining, it can present some decorating questions.
One is, how do I coordinate area rugs in an open-concept space? 
Area rugs are a key component in decorating. They help to define a space, anchor furniture pieces so they don't seem lost in the middle of a room, and contribute to the design plan. Rugs can be a statement or can be a neutral piece to backup the rest of the room.
But in an open-concept space there is another factor to consider, how to mix them together.
In our home we started with our lovely colorful Morrocan-style rug (similar here) that was from our old dining room that is going to be the show-stopper in the living room.
We needed a rug under our dining table just behind this couch to the left, so to complement this colorful one I chose the IKEA Stockholm rug.
                                                                             //Source//
They work well together because one is a show-stopping statement rug and one is not. One is colorful and floral and whimsical and the other is simple and geometric. The black and white rug doesn't compete with the other, it's the perfect supporting actress in a movie that's all about the pink rug.
Another approach is to link two rugs with a similar color. To keep it from getting too crazy, keep only one busy.
I love that they are both colorful but one is decidedly more traditional (the right).
Or if you are more of a neutral-lover but still looking for some interest, try this combination.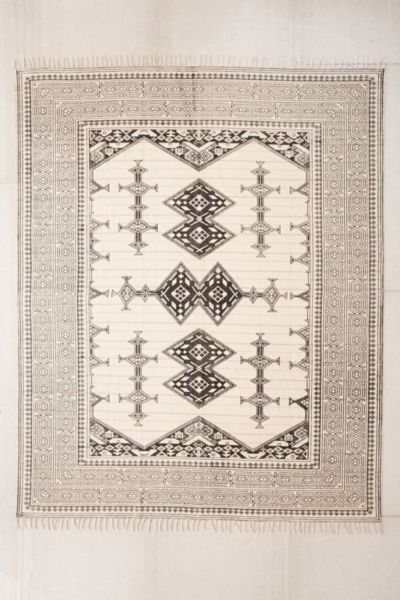 I am in love with this combination. I love the black and white rug- the contrast, the whimsy of the tassels, and the smaller scale pattern that is not overwhelming. Modern-meets-Western.
If you're in doubt, any of the above rugs would look great in the same open area as a jute or sisal rug. With the ultimate neutral color and tons of texture this rug is seen all over the blog-osphere for good reason.
//Source//
I hope this roundup was helpful, it was for me! I'm keeping these combinations in mind for the future. Which pairings are your favorite? I love them all but especially the black and white/cowhide combination.